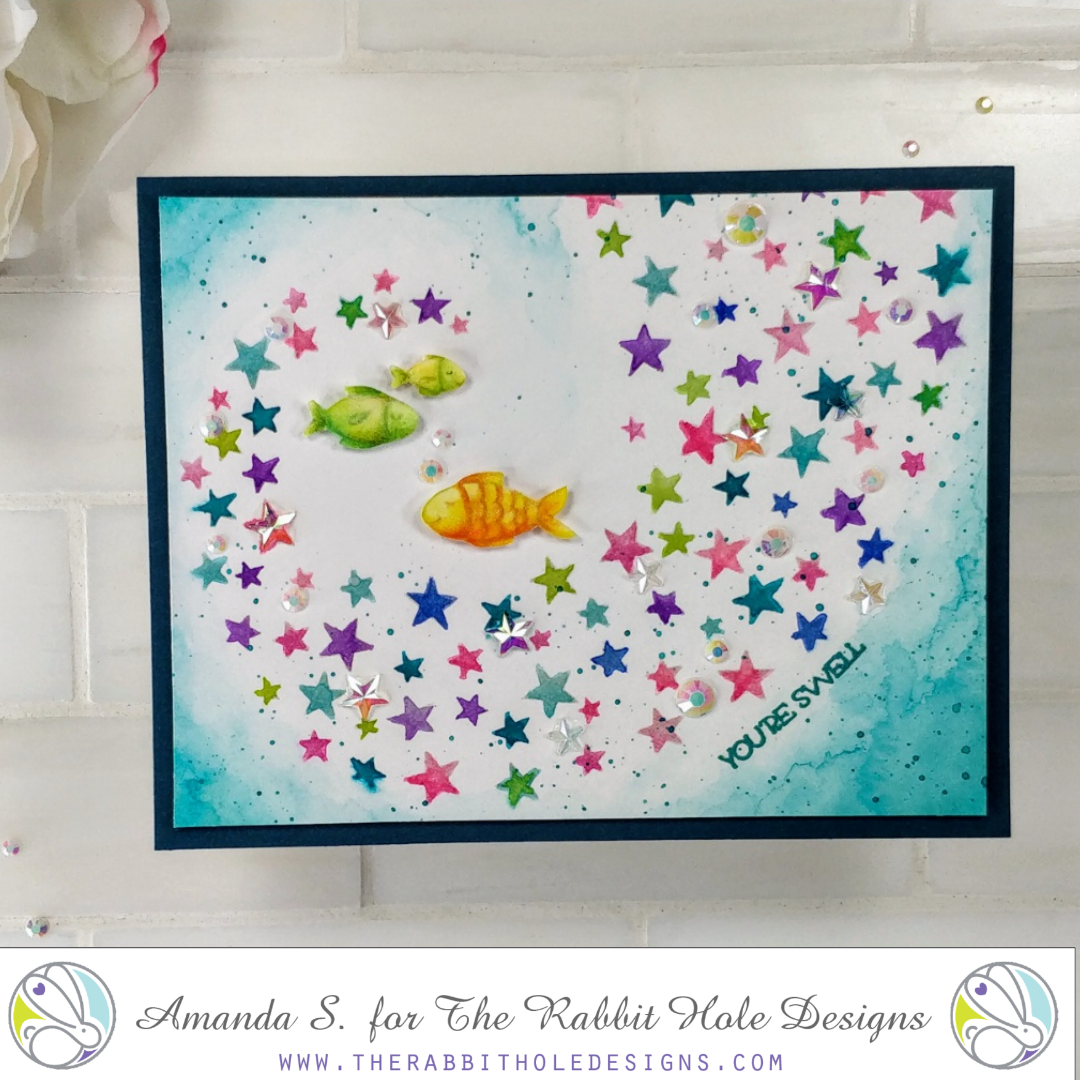 Hey crafty friend, it's Amanda from Pear Blossom Press again. Well, I did it. I couldn't resist the new Karin markers. I was trying to be strong. I've been building my Copic collection, and since I have full-set-itus (it's a real thing), I wanted to complete that collection before starting another. But there was a sale. And Jenn Gross has been creating the coolest backgrounds with them. And I couldn't hold out anymore...
So I've been testing them out! They are highly pigmented, waterbased markers, with nice nylon brush tips. I love them! Let me show you a card I created with them...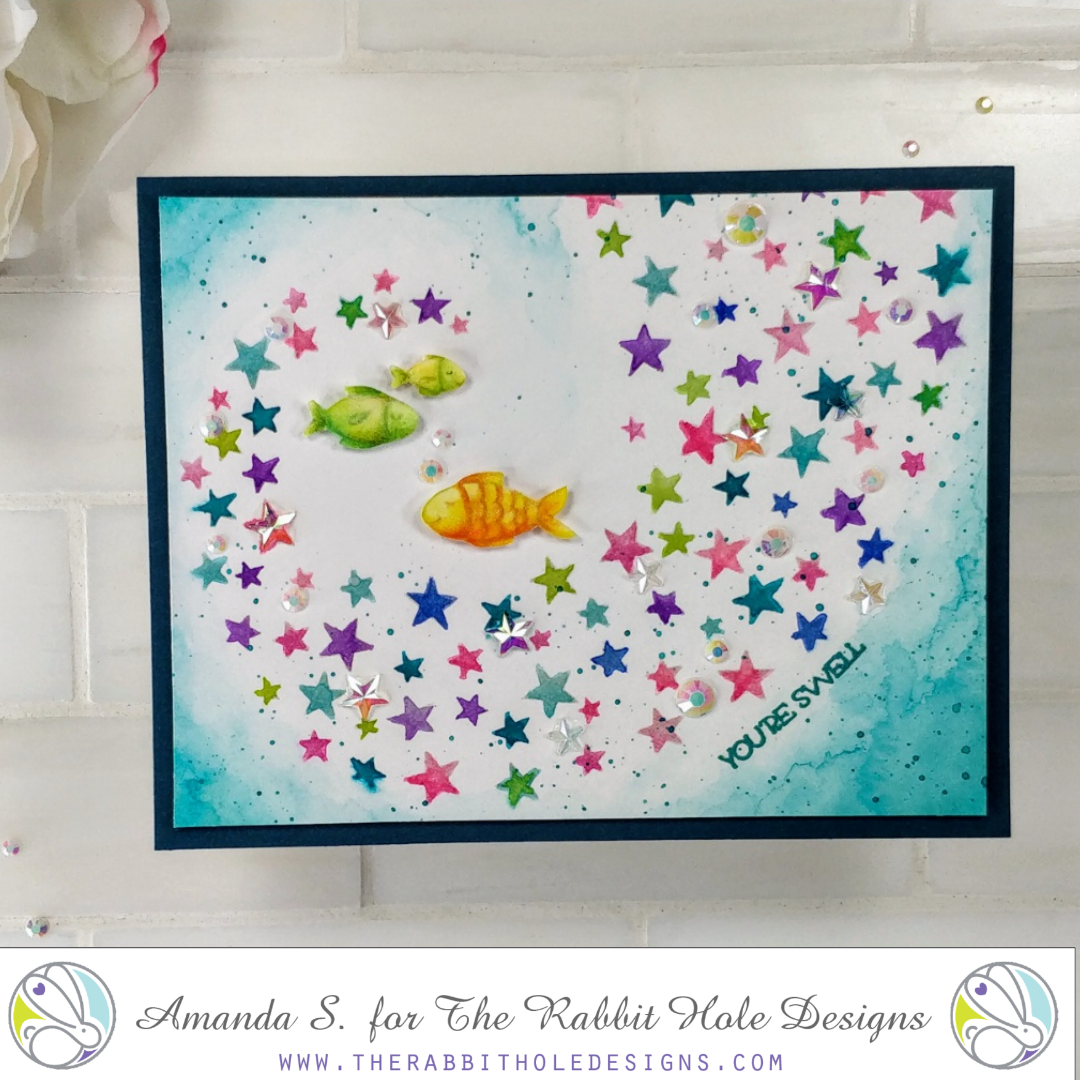 I saw Kathy Racoosin stencil a light, neutral colored ink onto a background, and then watercolor it. It's such a cool technique! For this card, I stenciled Fadeout ink through the Aim for the Stars stencil. I was just playing, so I used a panel of Neenah that I had handy. I probably should have grabbed watercolor paper, but since there was so much pigment in the markers, I didn't actually get the panel too wet, and it worked just fine.
After I stenciled on the Fadeout ink, I scribbled several colors of markers onto my clipboard and picked them up with a waterbrush. I colored over the stars. Then, I added watered down turquoise to the sides (this is where watercolor paper would have been a better idea, but again, it worked just fine). To add interest, I splattered on concentrated color.
While I was rotating and trimming the panel down, the swirl of stars kind of reminded me of a mermaid tail, or waves. So I decided to turn it into an underwater background. Still wanting to play with the new markers, and with the Fadeout ink already out, I stamped the three fish in the Mermaid Hair stamp set to try no-line coloring again. (You may recall this no-line disaster, but I figured fish would be more forgiving images.) I watercolored them in the same way I did the stars, then fussy cut them.
To pull the card together, I curved and stamped the sentiment YOU'RE SWELL from the Beach Day stamp set (on sale right now!) and embossed it on the background. I popped the panel up on a dark teal card base with fun foam, and popped the fish up with foam tape. Shimmer pen highlights, and flat-backed stars and gems add sparkle.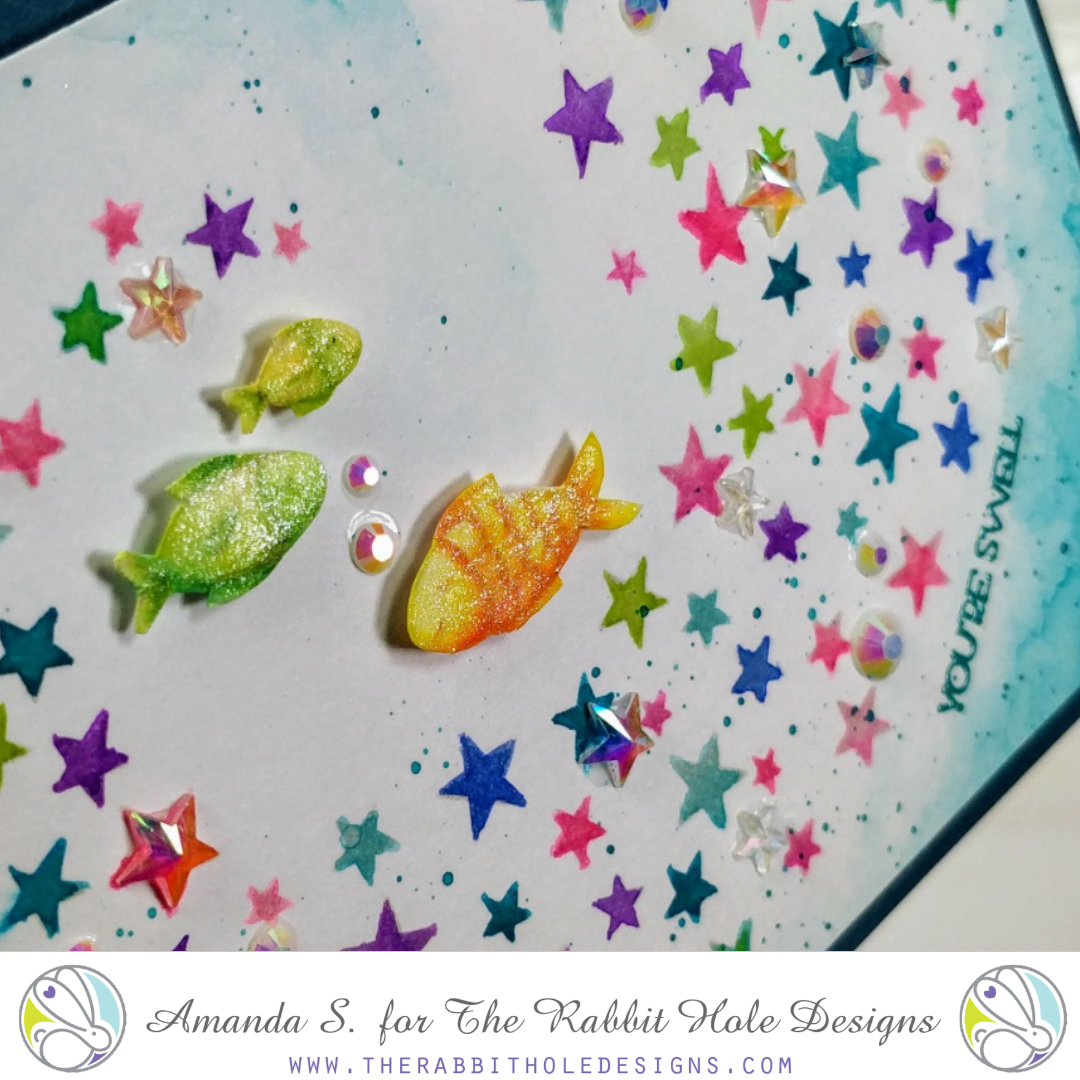 What do you think? Have you tried coloring a stenciled image? How about the Karin markers? Are you a fan of no-line coloring? I definitely need more practice with all three, but I'm enjoying the learning process.
Thanks for stopping by today. You can find the sister article to this on my blog. Head on over for more inspiration and links to the specific products I used. I'll be back soon with another fun card to share.
For more inspiration, updates, and news make sure to check out these awesome places!