Hey crafty friend, Amanda from Pear Blossom Press here again. It's my youngest daughter's birthday today, but since she doesn't read this blog, I can share her card with you a little early. She is getting older, and more mature, so I opted for a clean and simple card design. It feels a bit more "grown up" and at age 14, that's important to her now. Plus, it was quick and easy!
I made a birthday card, but you can use this design as a template for other cards too. You'll want a pair of sentiments, one large, one small. A tiny image, like the candle is optional. Those create the focal point of your card. For the background, you'll want a nice stencil. That's where our color comes in, and it sets the tone of the card.
For my daughter's card, I started by blending pink and yellow ink through the new Splish Splash stencil from The Rabbit Hole designs. I didn't cover the whole panel, only part. The ink fades out and leaves plenty of clean, negative space. Next, I stamped and embossed CELEBRATE and three candles on the panel. I embossed them with clear powder to give them a raised, glossy finish. Just a hint of coloring on the candles makes them pop. Next, I trimmed the panel down and layered it onto a pink card base with foam tape. Then I popped the second sentiment up with more foam tape. To help the sub-sentiment stand out, it was embossed with white powder onto black cardstock and cut out with a fishtail banner. To finish the card, and add some shine, I topped each candle flame with a clear raindrop gem.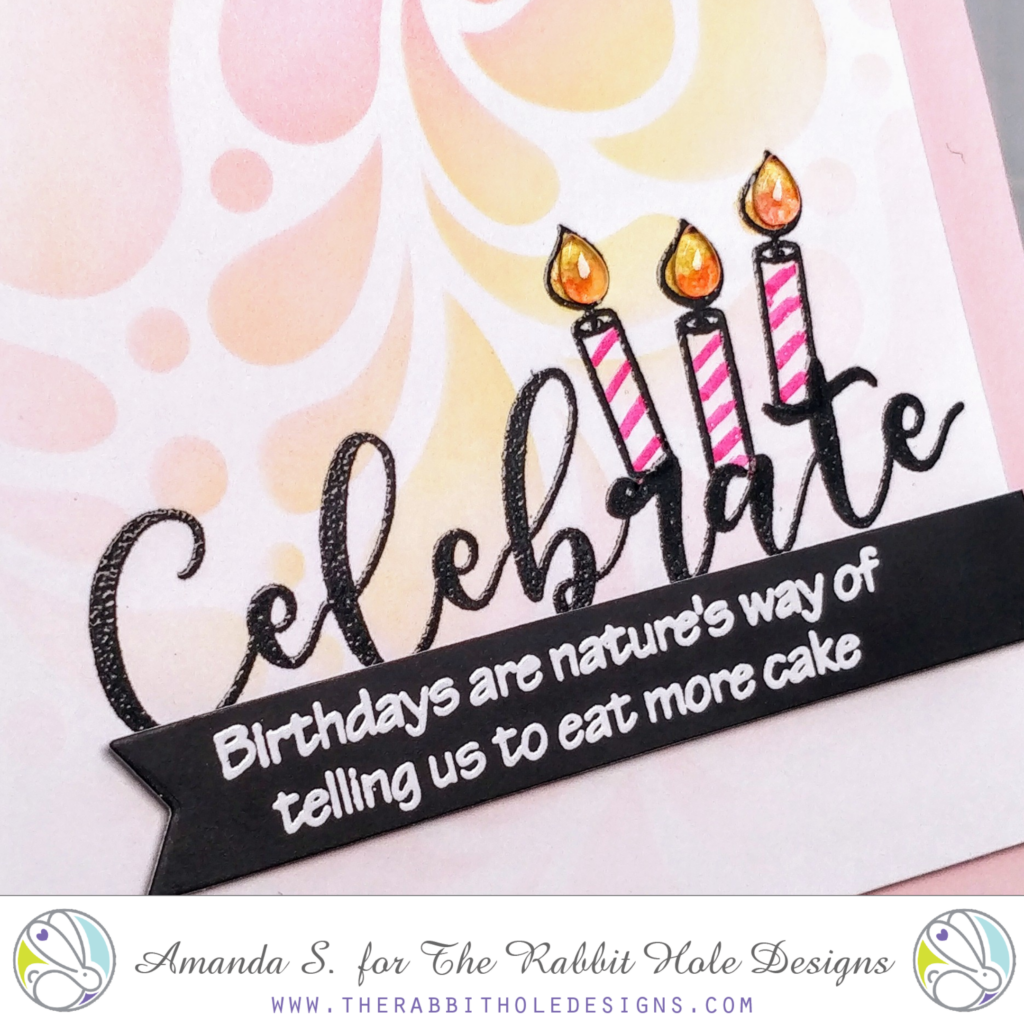 I really like the way this card turned out. If I were to make it again, I'd probably move the sentiments up about 2" and leave more of the white space of the background visible. What do you think of this clean and simple card template? Do you have stamps and stencils you can try it with? I'd love to see if you do! Tag me on social media, so I can cheer you on.
Speaking of social media, I finished up the stenciling video I was working on last week (altering pattern paper). You can watch it here...
Thanks for stopping by today. For links to the specific products I used, head on over to my blog. I'll be back soon with another fun card to share.
For more news, info and inspiration be sure to check out